BY SARAH BERMAN | VICE.COM
When Avery* arrived at the door of a New Westminster, BC recovery home just after Christmas, he was still feeling fucked up from an overdose the night before. The 25-year-old had spent the last five months sober in a treatment centre where "everything was all good." But after relapsing hard, he knew his caretakers wouldn't let him stick around and risk derailing the treatment progress of other patients.
"They had to remove me from the situation," he told VICE.
It was up to Avery to find his own back-up plan, but because the province's recovery industry is so strained by the deadly rise of super-potent synthetic opioids, he had no luck finding a comparable treatment centre bed. "I didn't have a lot of options," he told VICE. "I started phoning around, but nobody would take me."
A friend referred him to a "recovery home" that had a sketchy reputation, but was pretty much guaranteed to take him that day. Recovery home is a broad term that applies to many different kinds of live-in spaces that claim to help clients beat drug addiction—it does not refer to government-run treatment, detox, or community care.
There are about 80 recovery homes that receive funding from BC's assisted living registry in the Lower Mainland, most of them in Surrey. On top of that, there are many more unregistered ones that operate openly without any government oversight or resident protection.
Avery didn't know the name of the place, or whether it was on the assisted living registry. "It was well known as a flophouse-type situation, but it was a last resort for me," he said.
When he arrived, Avery was told to hang out while they figured out where to put him. "From all outward appearances it looked normal," he told VICE, "but it was a really shitty house. There were no carpets, the flooring was all just concrete… there were holes in the walls." He would later learn there were no meetings, no check-ins, no 12 steps. He says they let him walk in with a bag of heroin still in his pocket.
There were two or three beds in each of the house's four bedrooms—all of which, Avery found out, were already taken. The food in the kitchen was all donated, though much of it had expired according to Avery, and not long after arriving he spotted a rat. Avery asked for a place to lie down, and was directed to a ripped couch with the stuffing coming out in a "gross and grimy" basement, where he would spend the next three nights.
"You just don't want to be there," he said. "It wasn't a healthy environment."
Avery was pretty sure others in the house were using, and on a bad day decided to follow that lead. He recalls prepping a hit on that broken-down couch, and then everything went black. "I ended up ODing again," he said. "I didn't know what happened, I just remember waking up in the hospital."
Released from the hospital the next day, Avery spent the next week trying to get his stuff back. When he finally showed up to claim his belongings, his iPod, headphones, and cash were missing. Despite being robbed and overdosing, Avery told VICE his experience wasn't as bad as it could have been—he's just grateful that he's alive.
We have no idea how many people are dying in situations like these. In a year where nearly 1,000 British Columbians died of drug overdoses, BC's coroner was not tracking how many of those deaths were happening in recovery homes, which has one critic calling for urgent action.
VICE first reached out to the BC Coroner about overdoses in recovery homes in June 2016. At the time, a representative of the coroner said information on recovery deaths was not yet readily available due to the broad and contested definition of "recovery home." "Our coroners have called them a variety of titles, often based on what they name themselves," reads a spokesperson email. Some examples: "supportive housing, recovery home, treatment home."
To qualify as a legal recovery home, operators must provide housing, food, emergency response, and at least one prescribed service like counselling. Anyone with an available home can apply online, and after an interview, background check, and fire inspection, operators can start housing drug users. The process can take months or even a year.
Registered operators of the homes can collect $30 per person per day from the government—an incentive to put a roof over the heads of hard-to-house people. Though residents and workers in the industry say there are plenty of organizations doing life-saving work in this field, the industry has not been able to shake the proliferation of "flophouse" operators that take advantage of people trying to go sober.
Canadian Centre for Policy Alternatives researcher Andrew Longhurst told VICE even registered spaces are held to few standards compared to treatment facilities. Through his graduate research at Simon Fraser University, Longhurst found operators are not legally required to provide a minimum amount of programming, staff, or supervision, and inspections have historically been few and far between.
***
With little regulation or oversight comes a dangerous dark side. VICE spoke to current and former residents of legal and illegal recovery homes in Vancouver, New West, and Surrey. Even those with positive things to say had first-hand experience with death in recovery.
One current Vancouver resident of a recovery home said his roommate died of overdose earlier this year, and another friend died recently. He described open sex and drug use in the home, with five to six residents relapsing a week.
One former resident of a Surrey recovery home told VICE a methadone clinic referred her to a notorious home when she said she would like to share a room with her girlfriend. Many underground spaces advertise through word-of-mouth as "420 friendly" or allowing couples and co-ed roommates. Another woman who left a recovery home a few weeks ago described dried blood on walls, and ceilings "caving in."
Read More: We Asked Experts How to Solve Canada's Opioid Crisis
Two former residents described being kicked out a few days in, after their social assistance cheques were signed over to the operator. Welfare scams disguised as recovery homes is not a new phenomenon. Abstinence rules allow these operators to accuse residents of drug use, and kick them out after days-long stays.
"That's not recovery," one community support worker told VICE. "It's a giant scam."
Surrey's municipal government claims it has turned a corner on regulating recovery homes. In the last days of 2016, councillors told media about 20 illegal recovery homes still exist—down from as many as 250 in 2014—and a crackdown is still underway. But workers familiar with the system say as soon as one closes, another pops open across the street.
Recovery home residents and support workers told VICE many facilities in Vancouver, New West, and Surrey did not carry the overdose-reversing drug naloxone on premise until December 2016.
"I am writing to you today concerning one aspect of your legal obligation to ensure the health and safety of your residents," reads a letter from the assisted living registry dated December 7, 2016. In the final weeks of a deadly year for overdoses, the province set out new rules: recovery homes must now keep naloxone kits in all buildings, and train their staff in administering it.
Employees at several facilities did not receive training in overdose response until late December and January, according to sources familiar with the training. Both of these efforts came well after overdose deaths surged in November, killing 128 across the province.
Relapse is something all addictions services have to deal with. Advocates say the risk to residents lies in how organizations react. "If we find residents using in the house, we take them down to the sobering centre right away," Steve Ryhorchuk, counsellor for Night and Day recovery homes in Surrey, told VICE. "We don't let people be a trigger for someone else."
Read More: How North America Found Itself in the Grips of an Opioid Crisis
Some residents are allowed to return after detox, whereas others are shuffled to another facility. It's often in situations like these, where a more reputable home has to quickly find a new spot for a relapsed resident, that drug users like Avery end up in underground, unregulated homes. Workers and residents familiar with the recovery industry know these places are widespread, and will suggest them to drug users who are prone to relapse or have other barriers to housing. Friends, support workers, methadone clinics, and even jails are all sources that lead people to unregulated and dangerous recovery situations.
Ryhorchuk said their organization saw one overdose death inside a home last year, even with daily check-in meetings, counselling, 24-hour staffing, classes, and recreational outings. Two staff confirmed Night and Day recovery did not have naloxone available at all locations until after the letter from the assisted living registry.
***
When the BC government declared a public health emergency in April 2016, leaders said real-time overdose data was one of the province's top priorities. "We have determined that in order to assist us in providing an enhanced response, a key need is for more information and more detailed information on the who, the where, and the when of these tragic incidents," provincial health officer Dr. Perry Kendall said at the time.
BC is still the only province in Canada releasing standardized reports on fentanyl-detected deaths each month—ahead of many other provinces. In 2016, the province's public data on "where" people are dying is sorted by municipality, and only differentiates between private residence, other residence, other indoor location, and outside.
Longhurst said the province should be looking closer at the places and circumstances in which people are dying of overdose, including recovery homes. "That should be tracked," he said. "That's a public health issue."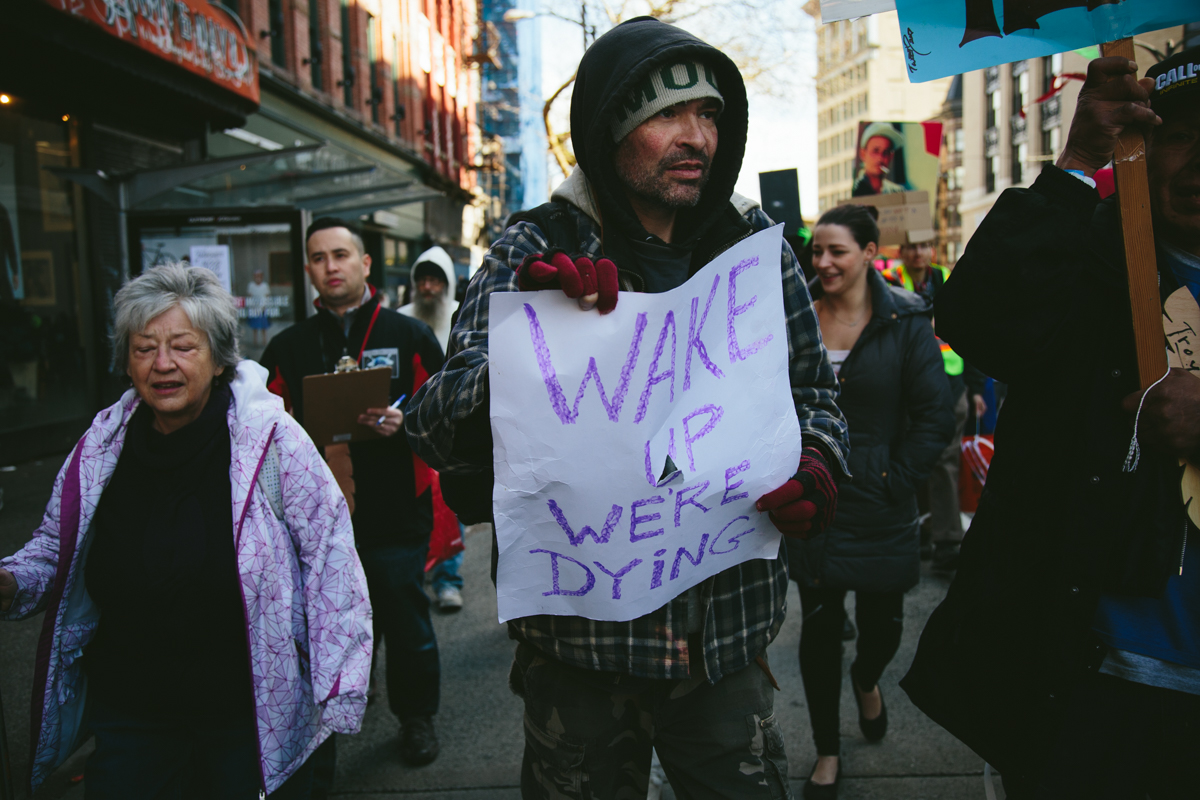 Eight months after VICE first inquired about the number of deaths in recovery homes, an executive assistant to the coroner said this kind of systematic tracking is on the way, but not ready yet. "The BC Coroners Service is currently improving its data collection efforts to be able to report on recovery homes in the near future," Alana McMahen wrote in an email.
Surrey RCMP told VICE they cannot confirm nor deny any investigation into recovery homes or recovery home deaths.
Overdose incidents and deaths are also recorded through the registry. Assisted living registry documents obtained by VICE show few serious complaints make it through official channels. Between January 1, 2013 and April 17, 2016, 13 complaints were substantiated in the entire Fraser region, none of which were "serious incidents."
Advocates say the bottom line is, without alternative harm-reduction based housing, these dangerous spaces can't be shut down without increasing visible, street-level homelessness.
"From my research the ongoing tension in Surrey has been not wanting to shut down recovery houses for fear of seeing more people on the street," Longhurst told VICE. "On the other hand, there hasn't been attention or focus on working with the provincial government to really work towards getting more low barrier harm reduction housing and health services."
Whereas Vancouver's Downtown Eastside has harm-reduction focused assisted living licensed under a health authority, the wider suburbs do not have the same wealth of social non-profit housing. That leaves very few options for people struggling with concurrent mental health, addiction, and poverty issues.
Longhurst told VICE that recovery homes should be regulated through the health authority, to allow for better tracking and accountability. This would require more funding and political will than is currently on offer, but it's not totally out there; a similar system was even in place in BC before 2002.
And there are a few current non-profit models: supportive housing in hotels run by Rain City and Portland Hotel Society in Vancouver are contracted by Vancouver Coastal Health and monitored closely. "There's no reason that they shouldn't be meeting the high standard of licensing and regulation."
After those few days bottoming out on a dingy basement couch, Avery says he was lucky to get back into the treatment centre that was working for him. "They knew the situation that was going on, and they actually saved my life," he said. "They said we can't in good conscience send you back there."
Yet Avery knows others are sticking it out in dangerous recovery conditions. Without coroner tracking, we won't know how many never got a chance to bounce back.