BY SARAH BERMAN | VICE.COM
In the search for a life without any rules, the ocean has its appeals.
When I called up Nick, proud creator of a floating "swamp shack" built mostly out of scraps from the Salt Spring Island dump, he told me one of the biggest draws is not having to adhere to any city bylaws on fire safety or sanitation.
"The biggest thing for me is that float houses don't have building codes, so out there you can build whatever you think up," he told VICE. "You can't do that on land."
In a bay known for derelict structures, Nick's shanty town creation has a wraparound porch with rocking chairs that wouldn't be out of place on a Louisiana bayou. The cabin has high ceilings, lofted bunks, a wood stove, and an overall whimsical vibe. Nick describes the concept as "pretty psychedelic," adding it may or may not have been designed on shrooms.
The house was constructed partly out of financial necessity, and partly out of a low-impact off-the-grid philosophy. Nick and his friends have been living for free and sticking it to the mansion owners up the hill for over a year. A couple of them live year round, and up to a half-dozen stay during the summer. "Before it looked like a big pile of junk—it's such a construction zone—but now it's starting to look like a real house."
Of course, there are also some drawbacks to living off dry land, and Nick's rich neighbours won't let him forget it. When winter comes, the bay is known for some pretty gnarly weather.
"People in the bay are adamant that we're going to die from the storms," Nick told VICE. He says three years ago an especially brutal storm ripped some abandoned boats apart in the bay. And just last year, a week of bad weather smashed two of their docks together, which meant staging multiple emergency repairs.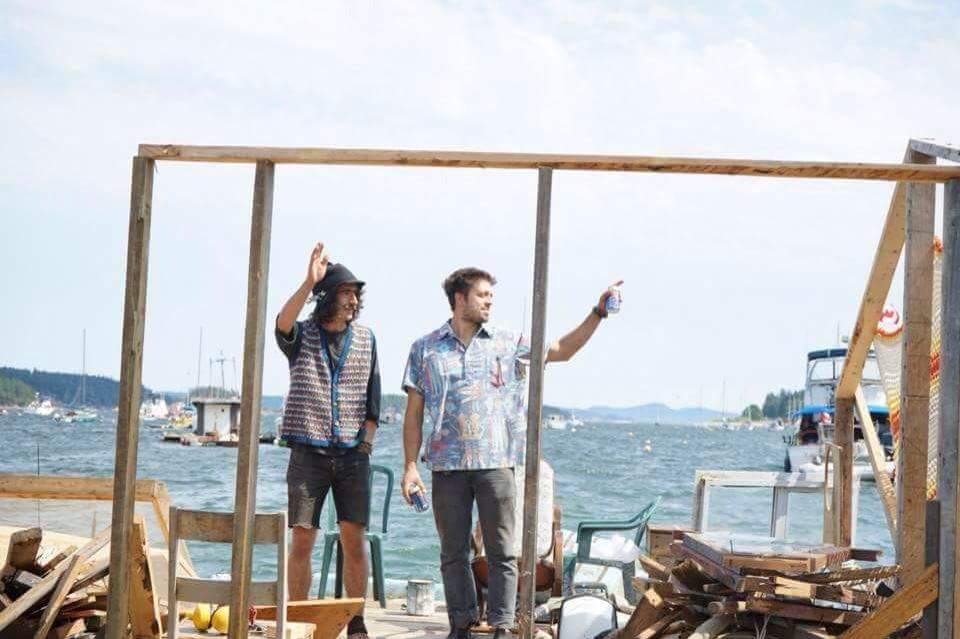 But Nick says their latest construction add-ons, including a dock buffer made of tires and a sturdy tin roof, will keep them out of danger. "The way I see it is if we build it strong enough it can take the storm," he says. "We can always leave in a dingy. It's not too far from shore. I'm actually not a great swimmer, but it doesn't scare me that much."
Last month, Nick received an eviction notice, which came as a surprise, since he knew the municipality had no jurisdiction on the water. The notice said that under bylaw 355 of the Islands Trust, no dwelling is allowed on a water surface. "They came and posted it on our door while we were away," he said.
"It looked like a formal notice, but it had no dates on it," he added. "It's not a legal document in my eyes, it's pretty unofficial, they're trying to scare us away."
Since the house looks so different from the mansions up the hill, Nick thinks the notice stemmed from neighbours' complaints. "There's one main guy who whistles at us when we're building like we're dogs or something," he said. "That kind of sucks. He only does it after five, so now we don't build after five or before 10 AM."
Nick says he first got into building as a kid. He says he was constantly constructing more elaborate treehouses growing up. That later turned into his first attempt at a tiny home when he moved from Courtenay, BC to Vancouver.
Then Nick learned about building codes the hard way, after constructing a "small castle" into a Salt Spring Island cedar tree a few years back. This was one of his more elaborate pieces, complete with an apartment and spiral staircase. He says neighbours complained, and the regional district served Nick a stop work order. Nick had to tear it down.
That's what got Nick thinking about floating. "At first we were just daydreaming about a rustic cabin with rustic bunks and a fireplace, and then we ended up buying two old danky docks that were falling apart," he told VICE. The shack that was on one of the docks had recently burned down, so Nick says he was able to buy it for super cheap.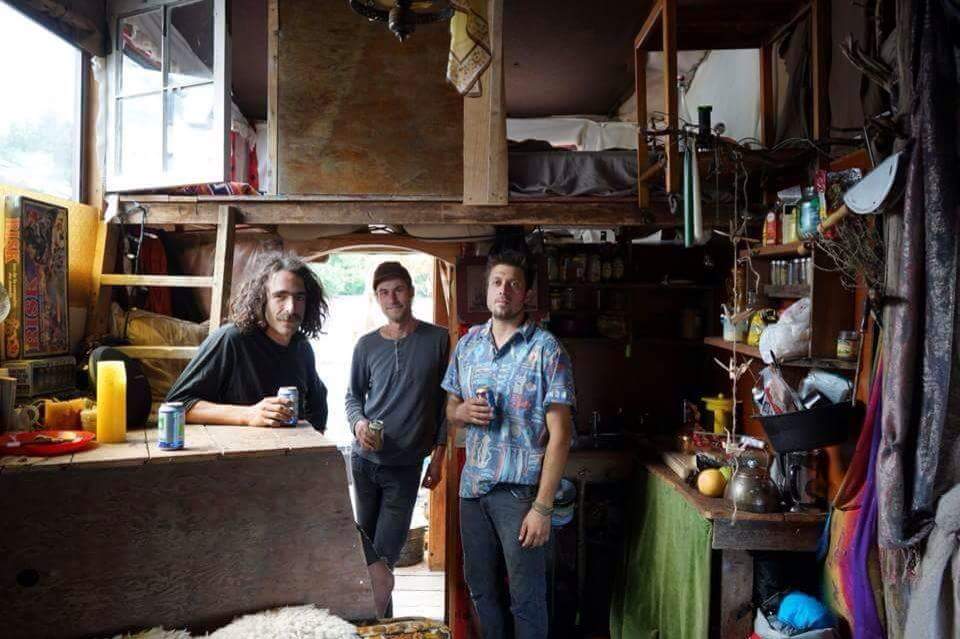 Now affectionately called "the Dumpshine," Nick says he's happy to have permanently cut a monthly rent bill out of his life. "Definitely it's partly necessity—not wanting all your time and money going toward a living space."
Nick says he makes some cash doing contract construction work, but his low-cost housing situation lets him choose projects he loves. When asked about his income, he says he lives off about $1,000 per month in the summer, and less than $600 a month in the winter.
The Dumpshine is also a place where people hang out and party. To get to the dock, friends slowly ferry themselves across on a dingy. A crew of mostly off-grid hippies like to play music and watch fireworks from the bay on Canada Day. "This year was such a ragtag crew," he said. "We got a big campfire going in the middle of the front yard, with the Christmas lights going all around it."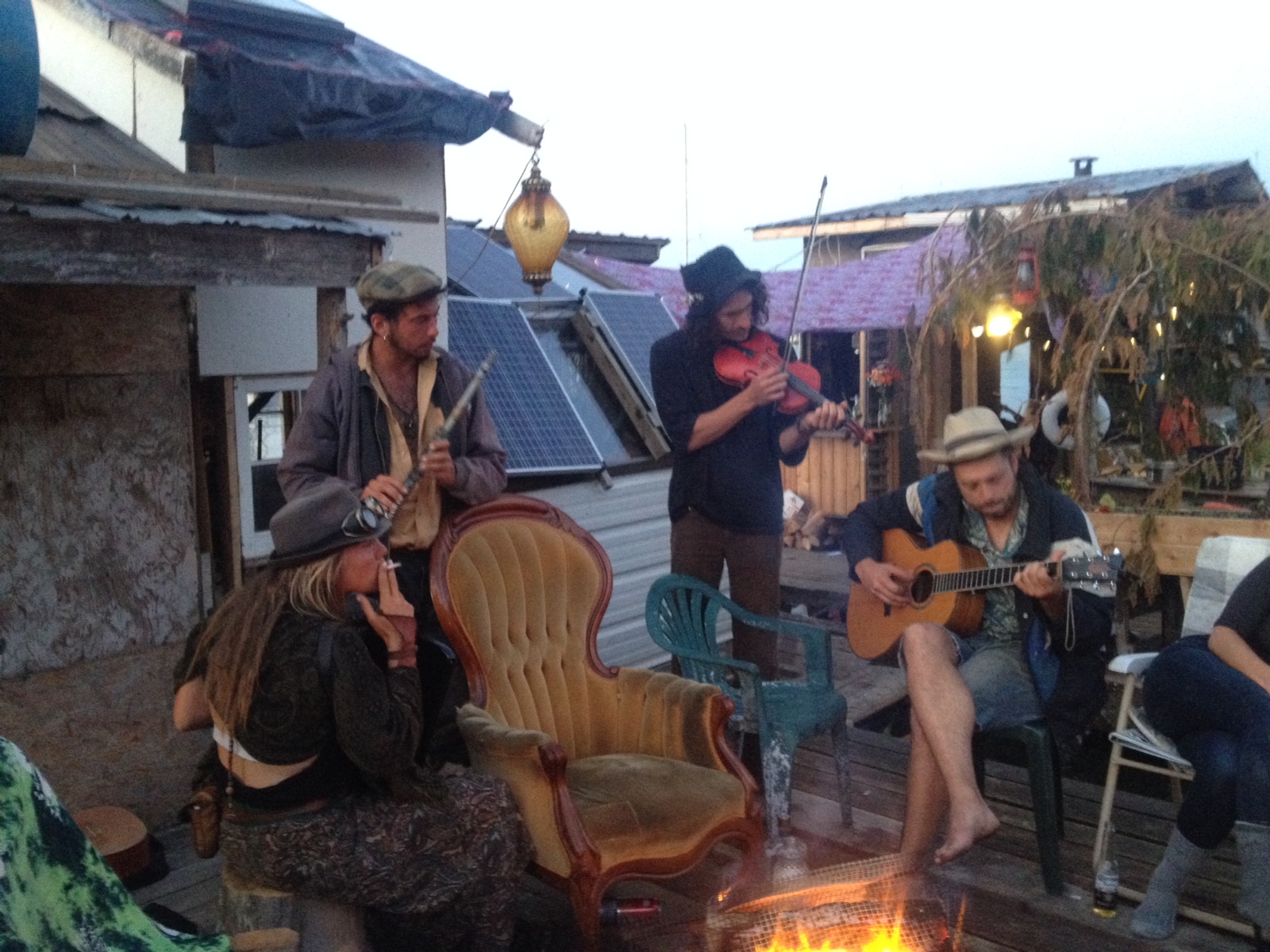 "We end up having quite a lot of people staying at our house. A lot of our friends in the bay have lived here for a number of months," he said. "I kind of like to be surrounded by all my friends. It's definitely me who brings people to live here, and I take shit for it when some stay too long."
Friends are also helping Nick and his roommate Kyle replace a tarped frame roof with storm-proof tin. "I'm the only one with a bit of a background in construction," says Nick. "I don't believe in precision and perfection in a structure, I believe in the quirkiness of things."
"You can tell what is and isn't sound," he adds.
That sturdiness is about to get tested come October.
"The way I see it is we're way too far into the project to stop, and if we stop building right now, the house wouldn't be ready for this winter. The storms are pretty strong, so we have to keep going to make sure it doesn't collapse in the winter time."